Many of us feel a yearn­ing for social rela­tion­ships deep­er, more per­ma­nent, more mean­ing­ful than those char­ac­ter­is­tic of our era. We long for a sense of com­mon inter­est, mutu­al under­stand­ing, and trust which we vague­ly asso­ciate with peo­ple and places past.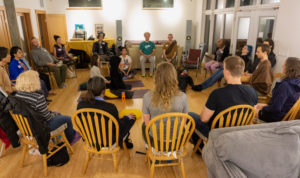 Since its incep­tion in 1972, Mag­ic has been a con­text for explor­ing the kinds of com­mu­ni­ty which are pos­si­ble in the mod­ern world. We have spon­sored exper­i­ments in com­mu­nal­ism, coop­er­a­tive house­hold­ing, neigh­bor­hood asso­ci­a­tion, con­sumer coop­er­a­tive, barter econ­o­my, work­er self-man­age­ment, and pub­lic ser­vice enterprise.
Out of these expe­ri­ences we have gen­er­at­ed an approach to com­mu­ni­ty which is cen­tered upon shared val­ues ground­ed in sci­ence. We offer Cre­at­ing Lov­ing Com­mu­ni­ty work­shops for peo­ple who want to devel­op an ethos of mutu­al inter­est in the places where they live, work, and play.
With the gen­er­ous per­mis­sion of author Frank Andrews, Mag­ic pub­lish­es and dis­trib­utes The Art and Prac­tice of Lov­ing, a man­u­al for a life­time of lov­ing that draws on wis­dom from many tra­di­tions. We've found this book an invalu­able resource and use it exten­sive­ly in our lives and teaching.
Work­shops range in empha­sis to accom­mo­date par­tic­i­pants' objec­tives. Some are more focused upon cou­ples and inti­mates. Oth­ers are designed to pro­vide guid­ance for peo­ple who con­tem­plate shar­ing a house­hold or join­ing with oth­ers in a co-hous­ing ven­ture. Still oth­ers are for peo­ple who want to cre­ate more effec­tive work­place teams.
Work­shops may be con­duct­ed at Mag­ic, at client-select­ed sites, or in oth­er set­tings. They may entail repeat­ed meet­ings, or a sin­gle ses­sion of a few hours to sev­er­al days.
What­ev­er their par­tic­u­lar theme, activ­i­ties, or for­mat, Cre­at­ing Lov­ing Com­mu­ni­ty work­shops are found­ed in the idea that lov­ing, in the sense of assid­u­ous­ly seek­ing to iden­ti­fy and fur­ther com­mon good, is key to liv­ing well. Through the work­shop activ­i­ties, par­tic­i­pants are giv­en oppor­tu­ni­ty and tools to assess what they offer to and ask of oth­ers, and to learn how to alter behav­ior to sus­tain the kinds of com­mu­ni­ty to which they aspire.
We offer Cre­at­ing Lov­ing Com­mu­ni­ty because we have enjoyed so many of the ben­e­fits of stronger com­mu­ni­ty in our own lives. We per­ceive that by learn­ing to more often make com­mon cause, humans can bet­ter sur­vive and thrive.